Garaventa Portable Wheelchair Lifts
Portable lifts are an ideal accessibility solution for temporary use or for use in multiple locations. Garaventa portable wheelchair lifts are robust, reliable and easy to use.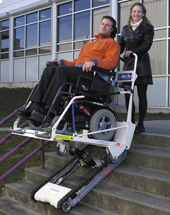 The Garaventa Super-Trac is the world's only portable inclined platform wheelchair lift, providing instant, affordable accessibility where stairways are a barrier. The unique, large platform design will accommodate all types of wheelchairs, including power, child, sports and conventional adult wheelchairs. Super-Trac is ideal for public and residential buildings. It's simple to operate, robust and incorporates many safety features.
Portable inclined platform lift fits most manual and powered wheelchairs
440 lb. (200 kg) capacity
can be used for freight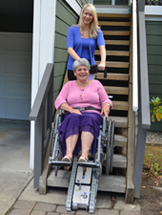 The Garaventa Stair-Trac, for manual wheelchairs, is an easy-to-use, portable wheelchair lift designed to attach under most manual wheelchairs. It's powerful motor allows a small attendant to safely transport a larger passenger up and down stairways. Stair-Trac is suitable for indoor or outdoor use in public buildings and private homes. A cost-effective and reliable, portable access solution.
Portable wheelchair lift
330 lb. (150 kg) capacity
fits most standard manual wheelchairs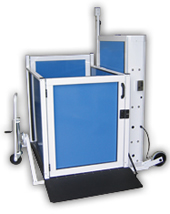 The Genesis STAAGE lift is a portable vertical wheelchair lift. It is safe, simple and a cost effective accessibility solution for low-rise vertical barriers such as stages and podiums. This lift is easy to use and can be wheeled out of sight when wheelchair accessibility is not required.
Stowable vertical platform lift
east to set up
for travel of up to 44"
Quick Contact Form
Contact us today. We are here to help you!