Xpress II Streaming Videos
To View online: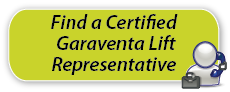 Move your cursor over the video you wish to view. Click on the left mouse button and the video will automatically open in a new window. (a media player capable of playing Streaming video is needed to view these videos on-line...

See RealPlayer's web site for a free download www.realplayer.com (Real Player) or Microsoft's web site at www.microsoft.com (Windows Media Player).

Garaventa Xpress II Streaming Videos
Need Assistance?
For the name and phone number of the representative nearest you, call:
1-800-663-6556 (within Canada and the United States) or 1-604-594-0422 or email:
productinfo@garaventalift.com