Wheelchair Lifts by Garaventa Lift
Seeking a Cost-Effective Accessibility Solution?
Wheelchair lifts are used in residential and commercial buildings where accessibility is required for disabled persons and those who have difficulty with stairs.
Garaventa Lift designs, manufactures and installes all over the world. Since 1978, we have been a leader in the accessibility industry, installing wheelchair lifts in private homes, places of worship, offices, community centers and schools.
Contact us today! Let us show you how Garaventa Lift can provide ADA-compliant, barrier-free accessibility.
Quick Contact Form
Contact us today. We are here to help you!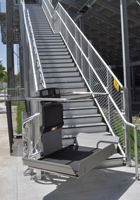 Models Available
Models Available
GSL Artira

folding platform travels over stairs
capable of travel around corners and flat landings
capable of serving multiple landings

Xpress II

folding platform
straight stairs, 2 landings
drive motor utilizes mains prower

X3

folding platform
straight stairs, 2 landings
drive motor utilizes rechargeable battery power
Models Available
Models Available
Genesis Staage

750 lb. capacity open-cab
with factory-built enclosure
up to 14ft. lifting height

Stair-Trac

stair climber attaches to most manual wheelchairs

Super-Trac

stair climber with platform for many powered wheelchairs
Models Available