Evacu-Trac - Emergency Evacuation Chair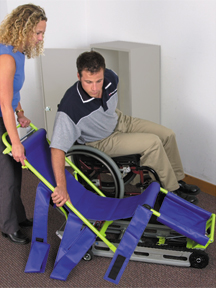 Do you have an emergency evacuation plan that meets the needs of everyone?
During an emergency such as a fire or earthquake, the law states elevators can't be used. This means that people with disabilities, or anyone who can't use the stairs may be trapped by the elevators that gave them access to the upper storeys.
An evacuation plan should include everyone, not just those who are able bodied. Understanding an evacuation plan is crucial. Regular practice drills are part of emergency plan and provide a means of evacuation for everyone, including people who can not use the stairs by themselves.
An example evacuation plan:
The U.S. Access Board is an independent Federal Agency devoted to accessibility for people with disabilities. This site outlines their emergency evacuation plan that accommodates persons with disabilities. Click here to go to the U.S. Access Board's Evacuation Plan.
The Access Board has also provided some background information on how they designed their evacuation plan to meet the needs of their employees.
Like Us on Facebook