Elvoron LU/LA - Limited Use / Limited Application Elevator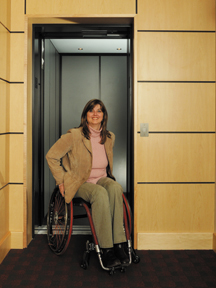 Elvoron LU/LA Elevators
The Elvoron LU/LA Elevator is a limited use limited application commercial elevator designed for low rise situations. It is fully automatic in operation and is very similar in look and feel to larger commercial elevators. The Elvoron LU/LA elevator provides vertical access for everyone, including able bodied passengers, persons with disabilities and even children in strollers. This compact elevator can also be highly customized and used in luxury residential applications where the characteristics of a commercial elevator are desired.
Regarding LU/LA Elevators:
Local code authorities may have a limit on travel, capacity, car sizes and speed. For clarification of the code requirements in your area, contact Garaventa Lift before starting your project planning.